Green-G

. A new business with a long history.
---
Green-G is the new business division of Goriziane Holding, which has more than 70 years as point of international reference in the design and manufacturing of advanced engineering systems for defence, oil&gas, naval, and railway sectors.
It was established in 2019, Green-G employs technical excellence and focused on the theme of the current environmental sustainability applied to the development of medium-sized electric commercial vehicles and systems.
The result of an investment plan started in 2018, the company plans to reach the first market objectives in 2021, and then internationalize starting in 2023.
Goriziane Holding

. Advanced engineering systems

---
Goriziane Holding employs about 150 employees working in the Goriziane E&C divisions – on which Green-G reports – and Goriziane MRO (Maintenance, Repair and Overhaul).
Goriziane E&C develops engineering solutions applied to various sectors such as oil&gas, naval, industrial, and offshore wind which are 90% dedicated to the international market.
Goriziane MRO is mainly focused on the Italian and European market which requires maintenance, repair, and overhaul services for military and civil vehicles, as well as for machines and systems that used multiple types.
The headquarters of Goriziane Holding is located in Villesse (GO). It covers an area of ​​150,000 square meters of which 35,000 are covered warehouses. The warehouses have equipped areas for the development of all vehicle production, repair, and testing activities on a dedicated proving ground.
e

carry:

Experience and innovation together
Green-G is a business unit that benefits from more than 70 years experience in the maintenance of both wheeled and self-propelled crawler vehicles. It can also count on the advanced engineering approach that E&C division has developed over the last 40 years, making it a worldwide leader in the design and manufacturing of special equipment and systems.
The result of this is a very rare DNA in a single company.
In fact, the company from Villesse is a technological fortress, in which the synergy between the internal Research & Development department and the business will of the Family have made it possible to make ambitious and technologically possible advanced projects.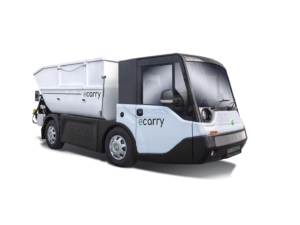 The Green-G team
Composed of young engineers and technicians specialized in mechanics, electronics, and mechatronics. All together with a great passion with a common goal: respect for the environment. Other technicians will join shortly and will become part of this group of enthusiastic and hardworking players in e-mobility.